Print Promotion Photos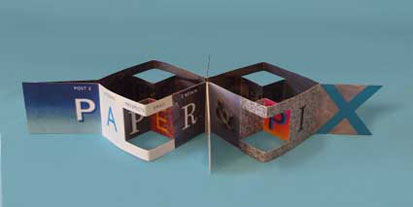 Expanding Idea Card for Professional Services
PROBLEM SOLVED/NEED: We need to capture the attention and respect of C-suite decision-makers, to differentiate our business in the high-end professional services market. The new business promotion needs original or personalised to encourage them to read and explore the message inside.
These cards go above and beyond the average business card and position your company as professional, original and standing out from the crowd.
FINISHED SIZE: 55mm X 90mm X 7mm
DESCRIPTION: When folded, the expanding idea card Card appears to be business card sized, then unfolds dramatically into a complex yet symmetrical promotion. It forms different symmetrical geometric shapes whether folded inward or outward on itself. It can be personalised with variable data.
BENEFIT: Truly unique, this Card hits 10 on the 'cool factor' scale, inspiring awe — especially in technically minded professionals. It invites exploration, not just once, but repeatedly, meaning that your retention or marketing campaign highlighting your range of services folds out before their eyes again and again.
Caterpillar Leave Behind Professional Services
PROBLEM SOLVED/NEED: Differentiate a business and establish credibility in the competitive professional services market. Makes it easier to get initial appointments. Makes an intangible service tangible. Something to give impact in a premium mailing.
TARGET MARKET: High value professional services such as engineering, architecture, surveying, management consulting and legal.
FINISHED SIZE: 90mm X 90mm X 15mm
DESCRIPTION: This geometric leave behind intrigues and entertains as it expands out from a square, catching the light in its angles. It invites folding and unfolding to explore its content and structure. This paper sculpture sales aid is designed to fit easily in the hand. Handed out in person on a sales call or posted/couriered with a letter in either a postpak or small cubical box.
BENEFITS: Unique structure is intriguing and invites folding and unfolding over and over; no one wants to throw it away. Like a slinky, it invites exploration of the content. It will have a long life and be shown to many people, meaning your campaign and call to action reaches others.
Involves recipient with the content and leaves them curious to know more. This means they will often move to visit a website or make a phone call.
CONTENT IDEAS: This format supports non-sequential messages. Can print snippets of copy outlining your products and services, testimonials from clients, inspirational quotes, photos, maps, illustrations. Works well with graphic or textural images (building materials, land forms), patterns, such as sections of maps, geometric photos of buildings, skyscrapers, landscapes, earth, rock, water, sky. It supports short copy in captions detailing services offered, testimonials, quotes, contact details.
Great sales aid. Perfect to offer thanks to high value donors, or real estate or investment clients. Memorable and effective give-away at management or investment seminars.
A second approach is to use dynamic graphics with bold type and vivid colour panels.
© Copyright Jean Kropper 2015
Six Ampersands: Paper Sculpture for Digital Graphics
Here one image of a paper sculpture is manipulated in Photoshop to create four more images. An illustration of an ampersand with a background of handmade paper is added for texture. The group form a unique image that can be reproduced digitally or in print on paper. In this way paper sculpture can add a distinctive look to invitations, promotions, advertising and marketing collateral.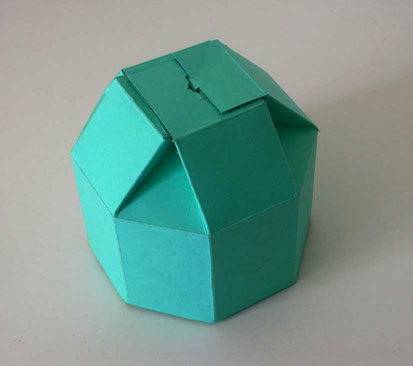 Octagonal Box
I saw a candy box and was intrigued by its shape and wanted to understand how it was built. to explore its structure I hand built mock ups of it three ways- taller, wider and just the same. I love its angles and flat surfaces.
Interactive Calendar with Rotating Disc
PROBLEM SOLVED/NEED: A high impact new business promotion that will be kept close to hand for weeks or hopefully months so that the client's business is top of mind when catering services are required.
DESCRIPTION: This calendar folds to form a triangle shape when the two base panels are interlocked. One side features a rotating panel that displays images of four stunning food choices in a circular window. Further information about the company's services, products and certifications are provided on the base.
BENEFITS: The calendar is useful, and visually interesting, which makes it a powerful promotional give away as it's likely to be kept on a desk for the remainder of the year. This significantly extends the longevity and visibility of the business's promotional message and services.
The rotating disc makes it interactive, inviting prospective customers to check out the product choices on offer and to form an opinion. Above all, it's FUN — we hear many people change the disc daily to display the food choice they desire most. This kept the client's services top of mind and customers loyal.
USES/CONTENT IDEAS: Products or services that are ALL desirable at different times. Seasonal products would especially work, such as pet care, pest control, beauty services, a year-round gardening or landscaping business that showcases planting flower beds, trimming roses, mowing lawns, raking leaves etc.
A florist could showcase specialised flower arrangements — think bridal, baby showers, funeralsand birthdays bouquets. A selection of resorts in a chain could be highlighted, or activities at a resort, such as jet skiing, snorkelling, deep sea fishing and enjoying a cocktail at the bar. The possibilities for Paper & Pixel's Rotating Calendars are as diverse as the services and images you wish to showcase.
© Copyright Jean Kropper 2015
Rewards & Retention Folder for Luxury Hotel
PROBLEM SOLVED/NEED: The hotel has a loyal crew of guests who bring groups of friends to the hotel. Rewards of chocolates and wine have been overdone, becoming lacklustre. A high-end folder is needed that carries a gift voucher and letter of thanks explaining the reward. Exciting rewards such as free yacht rental, massages, beauty treatments and helicopter rides are offered instead.
FINISHED SIZE: 120mmh X 160mm wide
DESCRIPTION: Folder with pop up and pocket in very nice thick paper
BENEFIT #1: Increase retention of valued guests and flow of new visitors to the resort. The folders and gift can leave a positive memory that extends well beyond the hotel stay.
BENEFIT #2: Advertise luxury services and experiences available through the hotel that the guests and their friends may purchase in future.
CLIENT: Versace Hotel, QLD.
TARGET MARKET: Repeat guests who regularly bring friends as new visitors to the hotel.
DELIVERY METHOD: In room promotion that may be followed by a phone call or message thanking them for bringing new visitors to the hotel.
QUANTITY: 500
CONTENT IDEAS: One custom folder can be a branded carrier for a range of communications as part of nationwide retention or loyalty programs.
PRODUCTION: These are precise mock ups of three variations with the production expected to be printed overseas. Paper & Pixel creates detailed artwork, samples, print specifications, production notes and video instructions for hand assembly for promotions that we design. We can also project manage print production and assembly.
WHAT'S GREAT ABOUT THIS FORMAT?: It communicates the feel of the luxury brand and can be used for multiple purposes as a carrier for gift vouchers, letters, business proposals and event invitations.
© Copyright Jean Kropper 2015, Paper & Pixel