Events products Photos
Table Centrepieces
Give Aways
Lamps
Skyscraper Table Centrepiece (light inside)
PROBLEM SOLVED/NEED: Last minute, easy to install table decorations were needed to make an event memorable and spark conversation and photos on social media. Great if they can be transported easily to an out of town event or an overseas wedding. Being recyclable or reusable would be an added benefit.
FINISHED SIZE: Unfolded size 420mm X 30mm X 300mm high
DESCRIPTION: Client receives each paper skyscraper folded in a cellophane sleeve and stacked together in a box. They unfold easily and are clipped or tied to stay open forming the shape of a New York Art Deco skyscraper. A battery-operated light is placed inside once unfolded on the table.
These stylish decorations are perfect to bring to overseas weddings or special events as they fold flat easily, can be tucked safely into a suitcase and pop-up for that instant wow-factor — just add lighting...
BENEFITS: They give a dramatic way to quiet down a chattering crowd before an MC introduces an event. Imagine a crowded gala dinner. The overhead lights are dimmed, dramatically revealing the illuminated table centrepieces. The conversation pauses, leaving the MC with everyone's full attention. Photos of the table decorations can be used in follow up communications.
RELATED PRODUCTS: An arrow sign for directing guests, a banner as a backdrop to a head table or media wall and a seating arrangement listing with matching graphics are also available.
© Copyright Jean Kropper 2015, Paper & Pixel
State Library Packages Installation, Paper and Pixel, Jean Kropper.mp4
Table Centrepiece: Two Colour Swirl
PROBLEM SOLVED/NEED: Communicate a sense of energy blossoming, movement and vitality for a conference lunch for a business or industry in the middle of change.
WHAT/DESCRIPTION: Paper sculpture table decoration.
BENEFIT #1: The centrepieces add colour and interest to the tables at an event. An image of them can be used on invitations, the event booking website and on follow up communications to make them memorable.
BENEFIT #2: They will spark conversation and ensure photos about your event are posted on social media.
CLIENT: Devine Events, Sydney.
TARGET MARKET: Event managers, event organisers, venue managers
DELIVERY METHOD: Courier to event organiser or venue manager.
QUANTITY: One per table.
PRODUCTION/HOW: Coloured papers are scored and cut to shape on a cutting table, then hand-folded, positioned and glued to hold their shape.
RELATED PRODUCTS: Digital invitations and follow up communications.
NOTE: These were the result of an experiment with creating multiple curved forms in paper.
WHAT'S GREAT ABOUT THIS FORMAT?: The centrepieces can be photographed ahead and used as a distinctive image on digital communications before and after the event. Also ideal where guests do not want to be photographed, yet images are wanted to remind people about the event.
© Copyright Jean Kropper 2015
Paper Sculpture Lamp: Organ Pipes
PROBLEM SOLVED/NEED: I work in the field of high-end professional services (engineer/architect/financial advisor/accountants/consulting) and would like a promotion to give to existing and previous clients to keep my business top of mind so they call when they need my services. I'm looking for a bespoke corporate gift that stands out from the usual box of goodies or good bottle of wine — something beautiful that will not only last but also be displayed proudly in my clients' office, reception area or home.
Industries where individual projects are valued over $40,000. And there may be months in between individual projects.
FINISHED SIZE: 220mm X 220mm X 400mm
DESCRIPTION: Rectangular table lamp with shade made from intricately folded rich white textured paper. The intricate geometric folds reflect the light… A completely different look is achieved at night as it glows from inside. The commercial lamp base and fixture inside has a power cord and switch, making it both elegant and functional. Likely to be kept and used repeatedly. Couriered or hand delivered to client. Each lamp is individually boxed.
(Price range $160 to $260. Depending on what quality fixture to use.)
BENEFITS: Longevity. As a gift that is both elegant and useful, it is likely to be kept and used repeatedly, keeping the giver top of mind. Distinctive handmade item of luxurious quality.
QUANTITY: 20 to 200
CONTENT IDEAS: Custom paper sculpture lampshades are available to suit a theme, mimic architecture or include a logo or shaped image. A small plaque can be added to the base with a short message, ie. With thanks from…
TARGET MARKET: Corporate marketing managers, corporate gift suppliers.
Three Bud Vase with Menus
Polypropylene menu holder with three bud vases. Perfect for any special occasion.
Lillies
Daisies
Roses
Wisteria
Freesias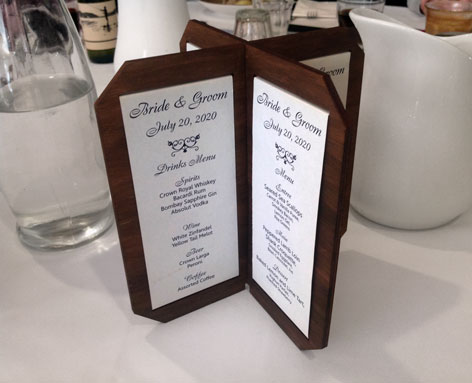 Café Menu (Events) New product for manufacturer